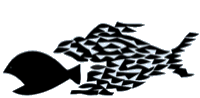 Shark shark = new Shark();
 Collection<Fish> swarm = new ArrayList();
 for ( ... ) swarm.add(new Fish());
 ...
 swarm.mimicryAttack(shark);
Swarm Behavior is a new composition operator that associates behavior with a collection of instances. The lookup of swarm behavior is based on the element type of a collection and is thus orthogonal to the collection hierarchy.
The method mimicryAttack …
is defined in the lexical scope of the Fish class,
is available for all subtypes of Collection, but
limited to collections that contain Fish instances.
can be overridden by subclasses of the Fish class.
NB, useful for both static and dynamic languages.
---
Publications
Adrian Kuhn, David Erni, Marcus Denker, "Empowering Collections with Swarm Behavior," to be submitted to somewhere sometimes, (mail us to get a copy).
Downloads
People