Overview
Vorlesung für Haupt- und Nebenfachstudenten.
| | |
| --- | --- |
| Course: | Programming 2 (Spring Semester 2018) |
| Lecturers: | Prof. Oscar Nierstrasz |
| Staff: | Pooja Rani, Pascal André, Julius Oeftiger, Lorenzo Wipfli, Marcel Zauder |
| Lectures: | Fridays 14h15 - 16h00 |
| Language: | English |
| Location: | Engehaldenstrasse 8, 001 |
| Start: | 2021-02-26 |
| Exam: | Wednesday, June 9, 2021 @ 10h15-12h00 (Details to follow) |
| Exercise hour: | Fridays 16-17 |
| Computer pool support: | Tuesdays 16-18 |
| Repetition: | Spring 2022 |
Logistics
NB: Due to Covid-19, this class will largely be held remotely. Please sign up in ILIAS as soon as possible so that we can inform you about how to participate in the lectures. In case of any encounters in person, please be sure to bring a mask, as there may not be enough room to maintain social distancing.
Description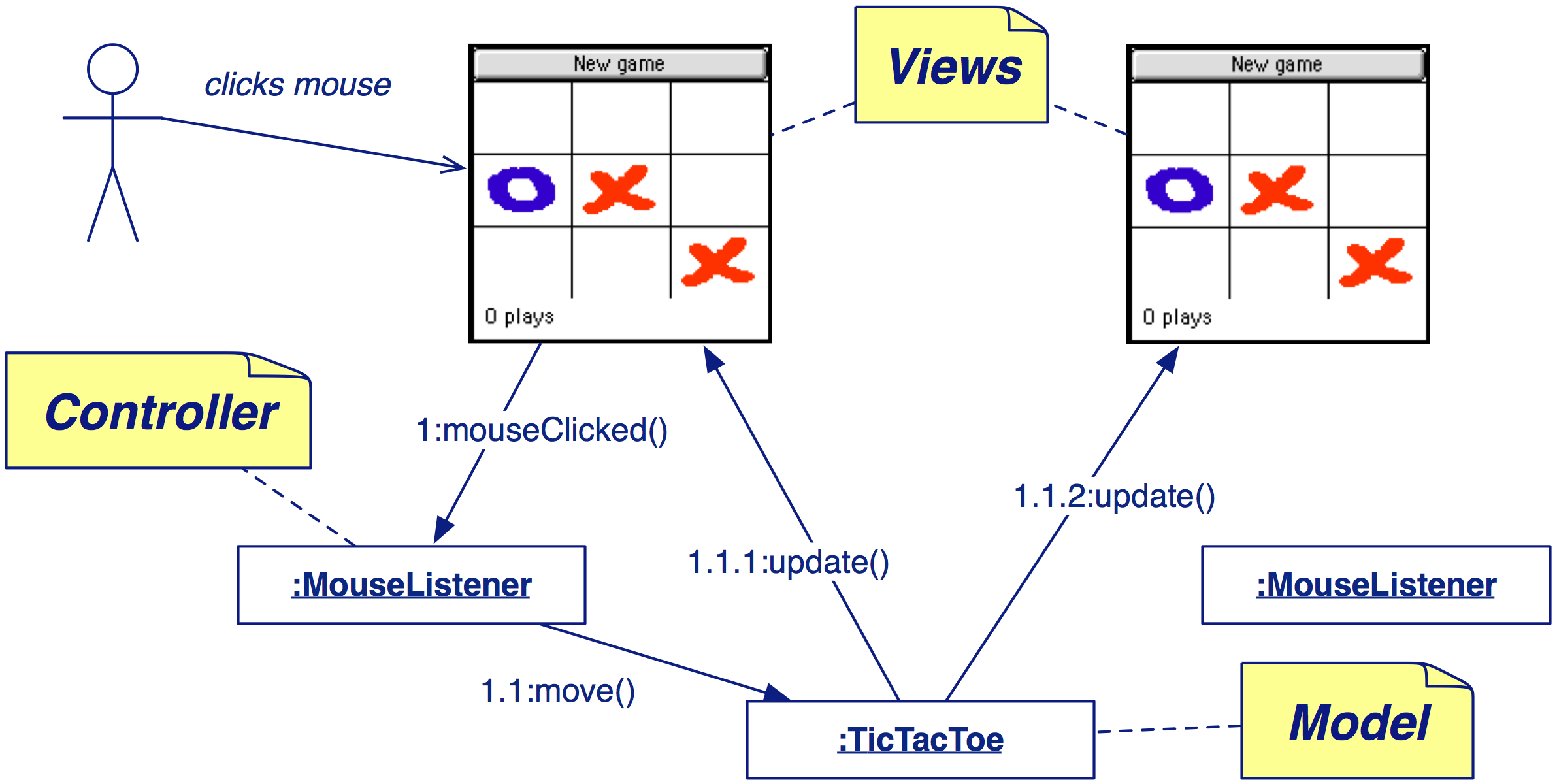 This course provides an introduction to object-oriented design in Java with an emphasis on practical techniques for developing complex software systems.
Learning outcomes
You will learn:
how to apply Responsibility-Driven Design to decompose a complex system into objects
how to use Design by Contract to develop robust software
how to make use of inheritance to design flexible and generic software systems
how to apply iterative and incremental development and continuous refactoring to arrive at a clean and understandable design
how to effectively test software
how to develop maintainable code by consistently applying simple design principles
how to apply design patterns to simplify your software
how to develop software that communicates its own design
how to effectively use development tools like debuggers, version control systems, and integrated development environments?
Schedule (tentative)
| | | |
| --- | --- | --- |
| Week | Date | Lecture |
| 1 | 26-Feb-21 | Introduction |
| 2 | 05-Mar-21 | OO Design Principles |
| 3 | 12-Mar-21 | Design by Contract |
| 4 | 19-Mar-21 | A Testing Framework |
| 5 | 26-Mar-21 | Debugging and Tools |
| - | 02-Apr-21 | Good Friday |
| - | 09-Apr-21 | Spring break |
| 6 | 16-Apr-21 | Iterative Development |
| 7 | 23-Apr-21 | Inheritance and Refactoring |
| 8 | 30-Apr-21 | GUI Construction |
| 9 | 07-May-21 | Advanced Design Lab |
| 10 | 14-May-21 | Guidelines, Idioms and Patterns |
| 11 | 21-May-21 | A bit of Smalltalk |
| 12 | 28-May-21 | A bit of C++ |
| 13 | 04-Jun-21 | Software-Entwicklung in der Praxis (Lukas Akermann, Zühlke) |
| | 09-Jun-21 | Exam @ 10h00-12h00 — Details to follow |